Irish companies recently walked away with well deserved gongs at the 4th annual Budgie Awards, held during the World Low Cost Airlines Congress event, at London's Sofitel Hotel Heathrow. Over 300 senior airline industry representatives were present at the ceremony, and the awards themselves were judged by renowned and well respected industry consultants.
One of the victorious companies was CarTrawler, the world's largest provider of car rental booking solutions for the airline industry. Following on from their success at the same awards in 2008, where they picked up the "Innovation Award", this year they scooped the Budgie Award for "Best Ancillary Revenue Innovation".
Accepting the award, CarTrawler's very pleased Chief Technical Officer, Bobby Healy, said, "We are delighted to accept this prestigious award and would like to thank the judges for choosing us. CarTrawler will continue to empower our customers and suppliers to achieve increased revenue and revolutionize car rental distribution globally."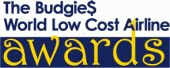 Another Irish company that picked up an award was Datalex, a leading provider of innovative travel distribution software and solutions. The company, which enables billons of dollars in online bookings for global airlines such as Aer Lingus and United Airlines, received the Technology Foresight Award for displaying "the greatest foresight in developing and fostering the development of a technology used by airlines."
Accepting the award, Ornagh Hoban, Datalex VP of Marketing & Strategy, said  "We are grateful to receive this recognition and share it with our airline customers across the world, who continue to lead the industry in optimizing the retail experience of their customers".
In a very encouraging sign for the Irish travel industry, Ireland was well represented at this prestigious event,  with a total of three of the eight global awards going to Irish companies, with RyanAir picking up the award for "Best Low Cost Airline".